The positive impact of the right working environment
It's amazing what impact a positive working environment can have on a business, particularly a small one.
It's been over four months since the move to Orbit Developments Beckwith House and can say with some certainty it was a good decision.
It's never an easy thing moving offices but thankfully due to the professionalism of Rhys Owen and the team at Orbit Developments it was a smooth transference, it was into a newly refurbished office on the floor too. Which made life much easier when it came to moving in furniture and making the office more lived in.
Why did I choose Beckwith House?
There are many reasons to be honest but the primary factor was that it was so close to central Stockport. With all the new developments happening around the town, such as Redrock it's good to be in the heart of the action. Walk out of reception and you're less than a 5 minute walk into Merseyway, Stockport Market and St Petersgate.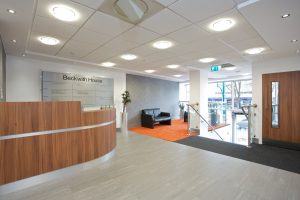 Are the facilities any good?
They are indeed. There's a decent size shared kitchen on my floor with enough room for a few small tables and plenty of work surface, so it's a good excuse to stretch my legs and get out of the office. I've also had my business name put on signage in main reception, on the floor and along the floor. Which gets my name out there amongst people visiting other businesses throughout the building.
There is also the facility to use the meeting room and The Hub breakout room at Regent House, which means you can have meetings outside your actual office if you need some more space.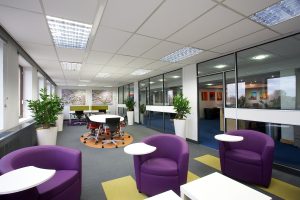 What's been the impact?
There was some PR on behalf of Orbit Developments when I first moved in, which is never unwelcome. A few businesses contacted me as they saw the new details on my website and as such I've gained new projects out of the address alone. Without sounding too zen, I'm feeling much more peaceful within myself. This in turn has led to a different quality output of work, which has brought more attention and given a nice spotlight to the business.