Now that there is a future for the Market, why not take the next step and create the marketing material and focus to help with promotional campaigns and put this historic part of Stockport on the map and drive foot fall across the town centre.
Branding
The idea we've thought of came from Staircase House as that has an old style logo but also stood out, so adapted it and using the same colours we've designed a logo for Stockport Market. By doing this there would be a tie-in with future marketing and create a distinctive feel within the market.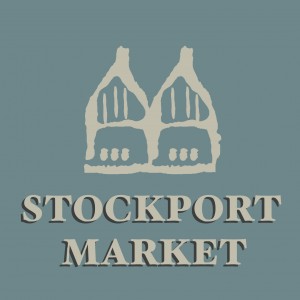 Social Media
Using
@StockportMBC
@StockportMarket
@SMBC_Business
 Twitter accounts along with any Facebook groups and feeds to promote Stockport Market on market days and leading up to events throughout the year such as Christmas, Easter and Summer Holidays. This can be done in the form of 'Business Spots' where the individual graphics for traders in the market that can grad attention and inform.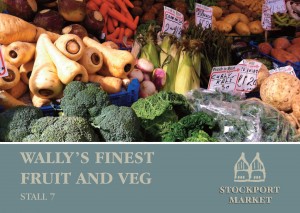 The idea was also to promote the fact that Stockport is a market town, so #HistoricMarketTown was thought of as a hash tag hook to be used across Twitter and other social media channels.
Advertising
Sadly the foot fall still needs to be addressed to make people both in Stockport and further afield aware of Stockport Market, so using the branding create banners to be put up on the areas of the A6 and on Clear Channel and JC Decoux Billboards at strategic areas and times of year leading up to Christmas and other events. Posters on Warren Street, Merseyway and around Redrock to grab the attention of those looking for something different.
Benefiting Marketing Traders
This is in two parts, an idea thought of by Corrin at Bottle Stockport
@bottlestockport
was to have tokens for when market traders do events. When a purchase is made, a token is handed out to the customer to be used on the Big Board Games etc. and other future features. Thereby creating a reason for people to shop and can be used for a variety of events.