This year marks the businesses 4th year as an #MOM winner!
The beginning
I was already following Jacqueline Gold on Twitter and when I found out she ran a competition for men in business called #MOM (Men on Monday) I decided to take part when the next competition date was announced.
So on the 26th March 2012 I sent my tweet off to Jacqueline Gold "@Jacqueline_Gold making the world a much happier place through Graphic Design & Print www.aquadesigngroup.co.uk #MOM" and carried on with the day. Around 5pm got a notification on Twitter and my email lit up like a christmas tree. I was one of the 5 men in business chosen.
#WOW #MOM Goodies
A while after winning the #MOM I realised that no one was producing Certificates or any sort of material for winners to show off their wins, so not to miss an opportunity I decided to produce a design for a Certificate using the badge styles at the time and sent off a tweet to Jacqueline Gold. I'm so glad I did.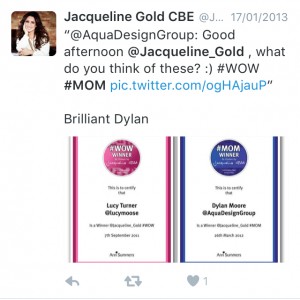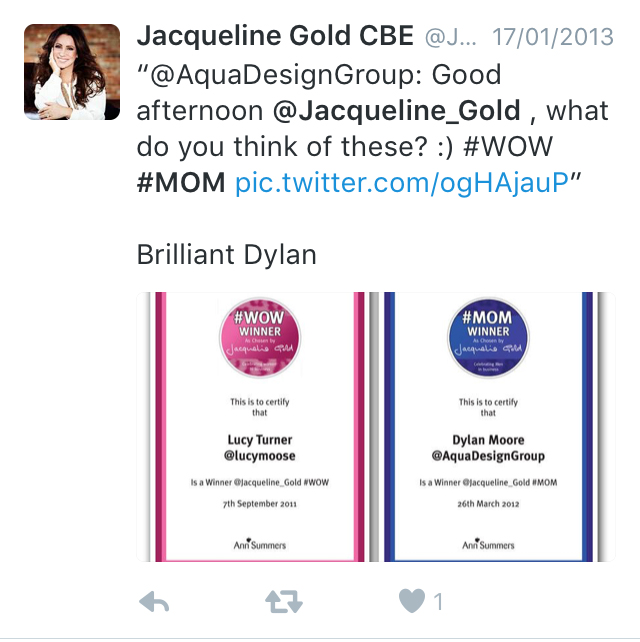 Working with fellow #MOM #WOW and Ann Summers
Have been lucky enough to both work with fellow winners and be recommeneded too. This has been helped along by doing the #WOW and #MOM Certificates and goodies for winners. As a thank you for the win, sent off a Phone Case to both Jacqueline and Vanessa Gold and off the back of the reaction was introduced to aspects of the Ann Summers family as was approached by shop managers to produce Phone Cases.
This has also led to working with Party Planners and producing Business Cards, Phone Cases, Loyalty Cards and Workwear for a variety of partly planners across the UK.
Pure Gold Support
Since winning the #MOM competition the business has always promoted it to others when it has been on, the #WOW competition and as much as possible anything for Ann Summers on Twitter and was thrilled when she sent a #FF (Follow Friday) mention not once but twice as a thank you. The win has also increased the businesses SEO online and thrown up some interesting results on Google and conversations with other businesses post win.