The festive season started off well for Aqua Design Group when on the last Tuesday of November @TheoPaphitis posted on Twitter using the #sbswinnershour hash tag about how we've benefitted from being #SBS winners. Which was a good start to December, as gave the business a nice spotlight to fellow #SBS winners too.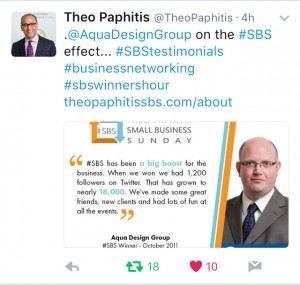 We've been fortunate to work with fellow winners since winning #SBS in October 2011, one such winner has been @Amshire a fellow Stockport business. This Christmas they were wanting to send out Christmas Cards to their clients. After sending out a few designs they decided on a wrapped design using their branding design and two specific colours, the Blue for their IT Support and Green for their Business Support. They even arranged the Christmas Cards and posted a photo on Twitter.
We've not restricted support to just fellow Stockport #SBS winners and we're thrilled to have supported Sussex winner @Ayegardening with a short run Presentation Folder they wanted to sent out for quotes. They were so pleased with the end result and mentioned the business on Facebook.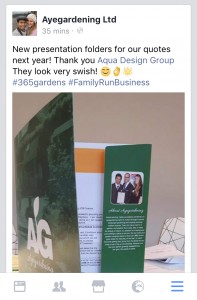 To finish off December we were pleased to be mentioned in the December #SBS Newsletter for the work we had done for @Ayegardening and was also named at the #SBS Winner of the Month for January 2017. This has been due to the support we have given to fellow winners through support across social media and for collaborative work through design and print.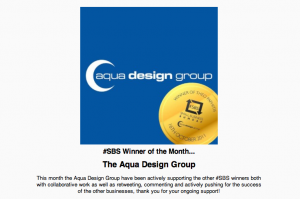 We decided to celebrate this new award by creating a new #SBS Badge using our style of existing badge.