There are many experiences that the business has been involved in along its social media journey and one of the highlights was being invited along to Media City UK by Tina Fotherby, ex PA to Theo Paphitis to spend a day with the man himself when he was still taking part on BBC Dragons Den.
Fellow #SBS winners RedShift Radio @RedShiftRadioUK were invited along to Media City UK to interview Theo Paphitis about #SBS (Small Business Sunday) for their online radio show and I was invited along as a thank you for work I had done for Ryman Stationery since winning #SBS myself.
The day started out with the group of us meeting at Media City UK and fittingly next to a very shiny chrome Maybach that belongs to Theo Paphitis and had a chat with his chauffeur.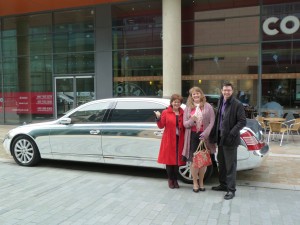 We were then surprised to hear that we were going to watch a behind the scenes pitch of the BBC Dragons Den show before RedShift Radio were going to do the interview… very exciting stuff!
So being led through some of the corridors around one of the studios in Media City UK and seeing crowds of people waiting to be led in to other shows being filmed at the same time, I was if I'm honest a bit dazzed with excitement at what was to come. We all entered the studio and were led around to a seating area, asked to sign a non disclosure form and of course turn off phones. Then the fun begin, the studio went silent and filming began for one of the pitches for the show.
Not giving anything away but let's just say the studio has some great camera work and set design.
Once the pitch was filmed, we had a brief chat with Deborah Meaden as we were leaving the studio and we went up to a room and RedShift Radio got set-up for their interview with Theo Paphitis, he was even kind enough to record an insert piece that they could use when talking about #SBS on their show and spent some time casually chatting to Theo Paphitis over the lunch break and we got to have some group and individual photography with the man himself.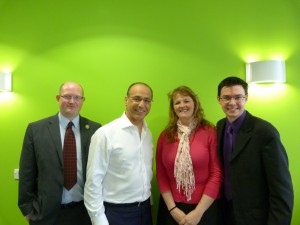 Proves that time does fly when you're having fun as before you knew it Theo Paphitis had to get back to filming, but before that we made our way back down to his Maybach and managed to have some photos with some of the other BBC Dragons Peter Jones and Hilary Devey.
Then finished the day with cake and coffee in a cafe at Media City UK with Tina Fotherby and RedShift Radio! What a fantastic day!