The business decided to get ahead with thinking and planning the marketing for over the Christmas and New Year period and whilst going over past design work, we thought we'd share our thoughts.
This blog is a part overview of the design work we've done and we hope you might find some ideas that could be used within your own marketing strategy.
Social Media
A few years ago, we decided to do a seasonal overhaul across our social media from Twitter with new Avatars and Headers and on Facebook using the same Avatar, keeping continuity over the Christmas period.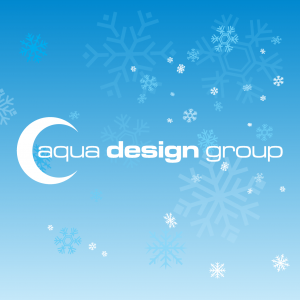 The decision was made to have it in keeping, so as Aqua is the first name of the business, snowflakes became the logical and main theme to bring that festive sparkle to the Twitter and Facebook accounts.
Adding some fun
With the introduction of Andy Quinn @ADG_IQ to the business it has opened up more possibilities from a marketing perspective, so a few years ago decided to produce a Postcard to send out to clients in the form of a 'Wish you were here' style format with news about the business activity of the year included. A handwritten style fort was chosen to add some authenticity along with a custom Lapland Postage Stamp.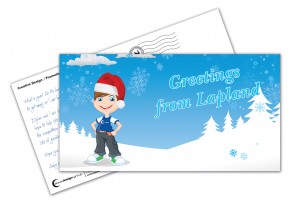 Due to the quirky nature of both the content and the marketing concept a few years later we were approached by fellow Stockport Theo Paphitis #SBS (Small Business Sunday) winners Amshire Solutions @Amshire to design and print a similar Postcard that incorporated elements from a Leaflet we designed and printed for them earlier in the year.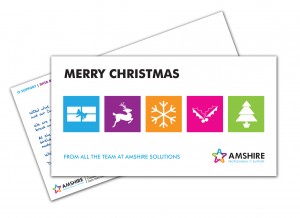 Make it memorable
In the Christmas of 2015/16 we decided to tap into the resources of our #QueenOf and #KingOf winners and approached #QueenOf winner The Chocolate Manor @chocolatemanor to produce printed chocolate bars that we designed and then posted out to our clients.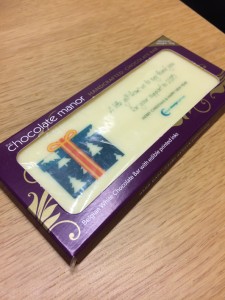 This was met with a lovely response in the form of tweets, phone calls and emails from the businesses that had received them.
During this process, fellow Davenport House resident Comms-Byte @commsbyte was already talking to The Chocolate Manor as were connected on Twitter and asked us to design a graphic to put on their own chocolate bars, incorporating elements from their Business Cards.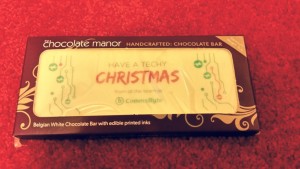 Keeping it in brand
We've ran a few competitions since starting our Twitter account in 2009 and in 2015 decided to run a caption competition to give away the design of a Christmas Message Graphic. The winner of this was PMP Consultancy @pmpconsultancy and we decided to incorporate elements of their brand and existing stationery but then added that Christmas touch without going over the top, due to their brand style.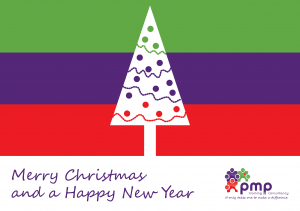 Saying thank you from winners
As many doors have been opened from the various social media wins, we decided to say thank you to both Theo Paphitis and Jacqueline over the years with a variety of printed and material posted on social media.
A few years ago we approached #WOW winner @slinkeeedotcom to create a naughty bunny illustration that would be the cover image for a Christmas Card for Jacqueline Gold @Jacqueline_Gold with logos of as many #WOW #MOM winners inside as we could contact that wanted to take part.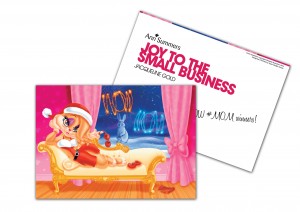 In 2015 we decided to make a bolder gesture to Theo Paphitis @TheoPaphitis and after making contact with Ryman Stationery and other businesses in the Theo Paphitis Retail Group we decided to design a graphic that would be posted across various social media platforms to say Merry Christmas from his #SBS (Small Business Sunday) winners.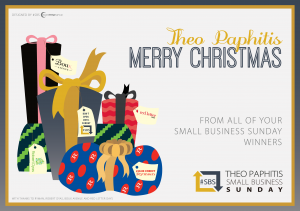 We hope you have found this blog of interest and hope this has inspired you to think about your future Christmas and New Year marketing.